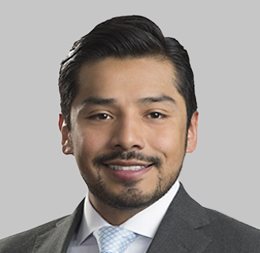 Aldo Cain Mendoza Rodriguez
Associate
Aldo Mendoza is a tax and general business lawyer with extensive experience in tax litigation, administrative litigation, and tax consultancy for a wide range of industry sectors. Aldo has handled administrative law actions, nullity actions, amparo actions, and appeals of reconsideration, review, revocation, and rehearing. His appeals practice tends to focus on tax litigation and administrative litigation, including trademarks, government procurement, foreign trade, and customs.
Aldo has a history of obtaining important provisional remedies, suspensions, and security measures in a variety of settings and legal proceedings. He has also participated in several different challenges of local and federal laws through constitutional remedy (juicio de amparo), in which the Mexican courts have agreed that the statutes were unconstitutional.
He represents clients in municipal, local and federal procedures, and has represented them before the Supreme Court of Justice, federal trial courts, federal tax and administrative law courts, and local administrative law courts.
Representative Experience
Bupa Insurance Co.
ClubCorp Inc.
Comdisco de México S.A. de C.V.
Dalkia Energía y Servicios S.A. de C.V.
Dril-Quip Inc.
Ediciones Castillo S.A. de C.V.
Enlace INT S.A. de C.V.
Grupo Axo
HDI Gerling de México S.A. de C.V.
Herbalife Ltd.
Hule y Silicón S.A. de C.V.
Leeco Steel LLC
Sanofi Aventis de México S.A. de C.V.
Tesco Corp.
U-Storage de México S.A. de C.V.
World Acceptance Corp.
EF Johnson Technologies Inc.
KCA Deutag Drilling Ltd.
TTI Inc.
IDEXX Laboratories Inc.
Brightstar de Mexico, S.A. de C.V.
Ford Motor Credit de Mexico, S.A. de C.V., Sofom
Alex Musical, S.A. de C.V.
GTECH Corp.
Awards and Recognition
The Legal 500 Latin America – Tax (2017)
Honorific Mention, Universidad Panamericana (2012)
Academic Excellence, Universidad Iberoamericana (2009)
Community Involvement
Assistant Professor of Tax Law, Universidad Iberoamericana
Languages