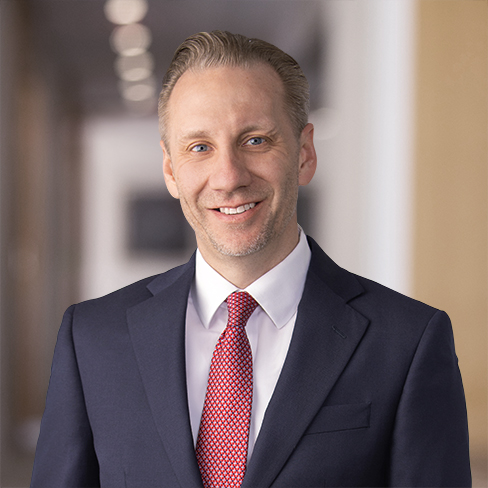 Bryan S. Schultz
Partner
Bryan S. Schultz assists Fortune 500, middle-market, and emerging public and private companies, including family-owned businesses, in a variety of industries with their transactional, corporate, and commercial needs. He is a partner in the firm's Corporate, Transactions, and Mergers & Acquisitions Practices.
His primary areas of focus include representing public and private companies in domestic and international business combination transactions, including acquisitions, divestitures, strategic alliances, and joint ventures. He works with businesses and their owners and senior management on corporate and commercial matters, including strategic initiatives, distribution arrangements, supply arrangements, executive compensation, ownership and executive succession planning, licensing issues, conflict resolution, personnel matters, and expansion efforts. He assists private equity firms with equity financing transactions and portfolio company investments and dispositions. Bryan also serves as general outside counsel for private U.S. companies and U.S. subsidiaries of foreign multinational companies.
Among his accomplishments, Bryan has represented buyers, sellers, investors, target companies, and intermediaries in over 150 transactions aggregating over US $20 billion in total consideration. These transactions have included companies located in the United States, China, India, the United Kingdom, France, Italy, Germany, Ireland, Switzerland, Spain, Mexico, Canada, and many other countries.
Representative Experience
Select Representative Acquisitions
Represented Rockwell Automation, Inc. in its acquisitions of Plex Systems, Inc., Cybersec Culture & Awareness, S.L.U., and ASEM S.p.A.
Represented The Manitowoc Company, Inc. in its acquisitions of the crane business of H&E Equipment Services, Inc. and Aspen Equipment Company.
Represented Douglas Dynamics, Inc. in its acquisitions of Dejana Truck & Utility Equipment Company, Inc., Henderson Products, Inc., and TrynEx, Inc.
Represented Rite-Hite Corporation in its acquisitions of Pugleasa Company, Scraper Systems, ZOO Fans, Inc., JD Metalworks, Inc., and Applied Handling, Inc.
Represented Mayville Engineering Company, Inc. in its acquisitions of Mid-States Aluminum Corp., Defiance Metal Products Co., and Center Manufacturing, Inc.
Represented Welbilt, Inc. in its acquisitions of LTE Enterprises, LLC, Pearl City Manufacturing, Inc., and Somerville (Siam) Limited.
Represented Hartung Brothers, Inc. in its acquisition of Syngenta Hawaii, LLC.
Represented Baker Concrete Construction, Inc. in its acquisition of Dugan & Meyers Construction Co.
Select Representative Divestitures
Represented MSI Group Holdings LLC in its sale of Morey's Seafood International, LLC to Rich Products Corporation.
Represented Bradley Corporation in its sale of Keltech, Inc. to Bradford White Corporation.
Represented employee-owners in their sale of American Appraisal to Duff & Phelps, LLC.
Represented family in its sale of Trostel, Ltd. to PRCC Holdings, Inc. and its sale of Eagle Ottawa, LLC to Lear Corporation.
Represented a family in its sale of Sterling Distributing Company to Southern Wine & Spirits.
Represented a family in its sale of Baptista's Bakery, LLC to Snyder's-Lance, Inc.
Represented Lakeview Equity Partners in its sale of LS Research, LLC to Laird Technologies Inc.
Represented a family in its sale of North Sails to Oakley Capital.
Select Other Transactions
Represented Rockwell Automation, Inc. in its formation of a global oil and gas joint venture with Schlumberger Limited.
Represented The Manitowoc Company, Inc. in its formation of a Chinese crane joint venture with the shareholders of TaiAn Dong Yue Heavy Industry Co., Ltd.
Represented Aurora Health Care, Inc. in its formation of a health care joint venture with Bay Area Medical Center, Inc.
Represented Quad/Graphics, Inc. in its formation of a strategic partnership with India-based Manipal Technologies Limited.
Represented Phillips Plastics Corporation in its formation of a strategic alliance with Ireland-based ProTek Medical Ltd.
Represented multiple families in succession planning, dispute mitigation, and related transactions.
Represented Foley & Lardner LLP in its business combination with Gardere Wynne Sewell LLP.
Awards and Recognition
Recognized as a leading attorney for his corporate and mergers and acquisitions work by Chambers USA: America's Leading Lawyers for Business in the practice area of corporate/M&A (2015, 2018-2023). Chambers USA is a leading publication that provides legal rankings based on market analysis and independent research, conducted by an experienced team of researchers.
Included in The Best Lawyers in America in the field of corporate law (2013-2024). Best Lawyers is the oldest peer-review publication in the legal profession. Inclusion in the publication is based on detailed evaluations of lawyers by lawyers.
The Legal 500 recognized Bryan for his work in the area of mergers and acquisitions (2010-2012, 2015-2016). Published for over 20 years, The Legal 500 publishes recommendations regarding legal service providers in over 100 countries based on the work of an independent research team that obtains input directly from thousands of commercial clients each year.
Community Involvement
Member, board of directors and finance committee of All Hands Boatworks, Inc., a not-for-profit company that seeks to inspire young people, especially those challenged by socio-economic and/or educational hurdles, to discover their talents through personal development of skills, determination, and confidence
Previously served as a member of the board of directors of Whitefish Bay Jr. Dukes Baseball Club, Inc., a not-for-profit company focused on baseball activities for community youth